FOAC ILLEA's Weekly Message For Monday September 5th 2022
:: 09/05/2022
As Joe Biden continues his campaign to advance his agenda for gun control, the federal "assault weapons ban" that passed the house is sitting in the senate. The democrats are attempting to buy votes for the upcoming elections and the anti-liberty forces in Harrisburg are once more trying to impose even more restrictions upon law abiding Pennsylvanians with SB 1307.
Hey folks, it ain't just about scarry black rifles anymore. It never was, but now their intent is obvious. Their resolve is strong. Their next move is to come after ALL semi-automatic long guns.
This tyrannical legislation is sponsored by the who's who of PA anti-Liberty legislators and sets up a coupe de grace if ever an "Assault Weapon Ban" were to be passed.
Currently there are 10 sponsors for SB1307: John Kane (D); Maria Collett (D); Timothy Kearney (D); Amanda Cappelletti (D); Nikil Saval (D); Carolyn Comitta (D); Jay Costa (D); Sharif Street (D); Jimmy Dillon (D); Katie Muth (D).
The text of the bill is, on its face, the old tired "California Style" Feinstein verbiage. However, upon investigation, the details are much more diabolical.
SB1307 begins with adding "definitions" for assault weapon, machinegun, peace officer, and weapon-carrying officer, to Pennsylvania Title 18 Section 6102. These definitions include: "Assault weapon" as any of the following:
(1) A semiautomatic rifle that has an ability to accept a detachable 44 magazine and has at least one of the following characteristics:
A part or combination of parts designed and intended to accelerate the rate of fire of the semiautomatic firearm to simulate the rate of fire of a machinegun.
A folding or telescoping stock.
A pistol grip that protrudes conspicuously beneath the action of the semiautomatic rifle.
A thumbhole stock, a second handgrip or a protruding grip that can be held by the nontrigger hand.
A Bayonet mount, a flash suppressor, muzzle break or muzzle compensator
A threaded barrel designed to accommodate a flash suppressor, muzzle break or muzzle compensator.
A Grenade Launcher
(2) A semiautomatic shotgun that has at least one of the following characteristics:
A folding or telescopic stock
A thumbhole stock
A second handgrip or a protruding grip that can be held by the nontrigger hand
A fixed magazine capacity in excess of seven rounds
An ability to accept a detachable magazine
A revolving cylinder
SB1307 does not limit the "assault weapon" classification to centerfire. Would your .22LR now be an assault weapon? What in Fort Pitt is a "detachable 44 magazine"? Is it a typo? What is a "conspicous" pistol grip? Merriam Webster defines conspicous as "obvoius to the eye and mind".
It is important to recognize that "Magazine" is loosly defined in Title 18. Is a clip a magazine… is a magazine a clip? You and I know the answer, but you can bet that Joe Biden doesn't know the difference. If he does he certainly doesn't speak like it. The term Semi-Automatic is not defined at ALL in Title 18.
This legislation continues to shred our Constitutional Rights by making it illegal for an adult person under the age of 21 to possess or transport an "Assault Weapon" unless they are a member of the armed services, an authorized weapon carrying officer, or a vested peace officer.
How many of your family heirlooms in your safe will now identify as an assault weapon after the gun grabbing democratic elected class in Pennsylvania get their way?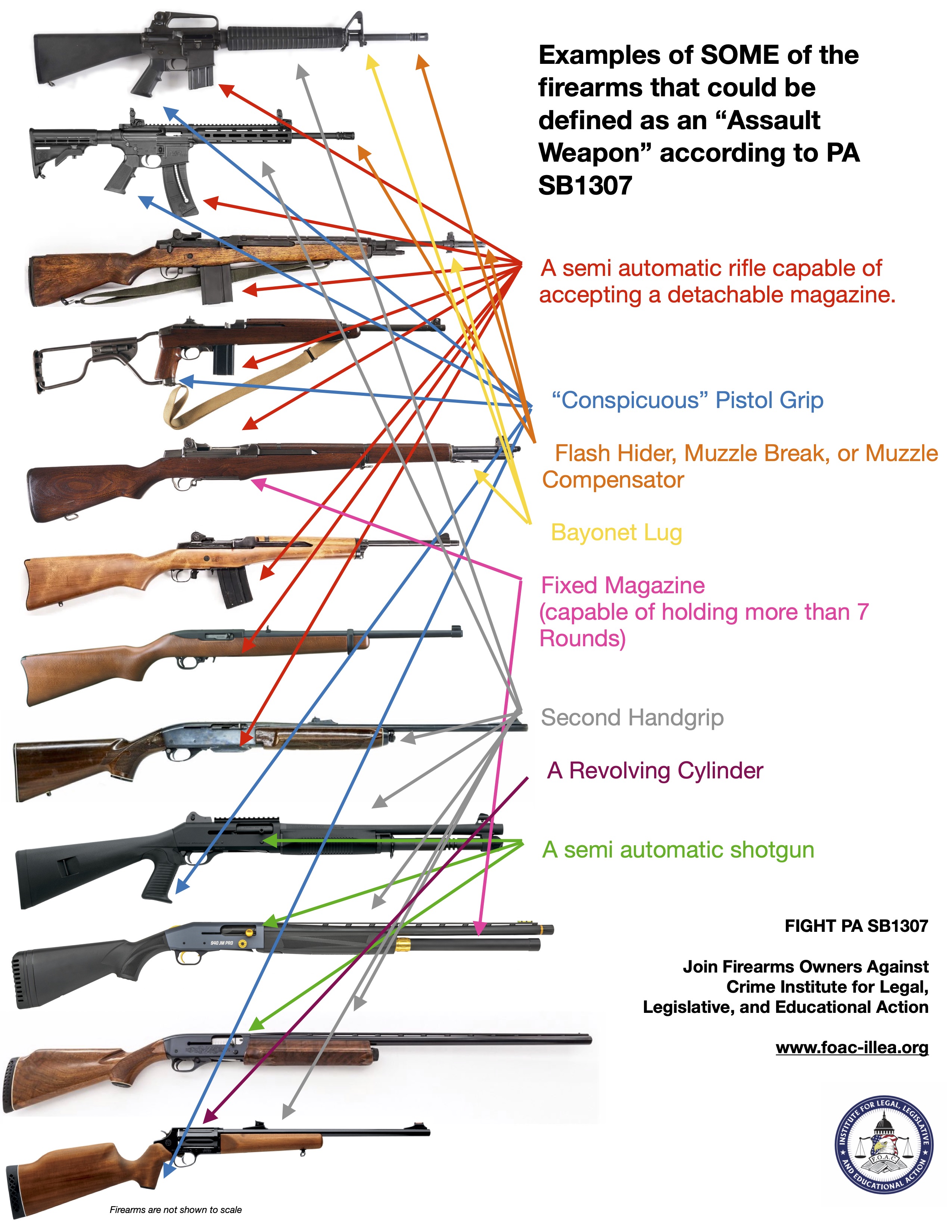 Joe Biden said in Scranton the other day, "For those brave right-wing Americans who say it's all about keeping America independent and safe, if you want to fight against the country, you need an F-15," Biden said mockingly. "You need something more than a gun." He continued as he pointed to the crowed behind him, "Who they shooting at? They're shooting at these guys behind me".
The entire Biden speech in Scranton was filled with amazing amounts of disinformation, lies, and threats.
"Do you realize the bullet out of an AR-15 travels five times as rapidly as a bullet shot out of any other gun, five times"
"For many of you at home, I want to be clear: It's not about taking away anybody's guns. In fact, we should be treating responsible gun owners as examples how every gunowner should behave.
I have two shotguns at home. I ca- — it's a long story, but I'm not opposed to guns. But I support the Second Amendment. And I support the Second Amendment. But the Second Amendment, as one of the most — one of the most conservative justices in history, Justice Scalia, once wrote, "Like…" — quote, "Like most rights, the rights granted by the Second Amendment are not unlimited." They're not unlimited."
Nothing like being mocked for standing up for the Constitution and the individual citizen's right to self-defense. Since when is keeping America "safe and independent" a problem? Nothing like being threatened by the U.S. Commander in Chief and told to "Behave". The condescension of the elected class is staggering and the only cogent message this President consistently delivers is one of distain for Americans that value Liberty and the free exercise of our Constitutional rights.
Biden went on to say, "Folks it's time to hold every elected official's feet to the fire and ask them: "Are for banning assault weapons? Yes or no." Ask them. If the answer is no, vote against them."
I do agree with one thing Joe Biden said, we DO need to hold elected official's feet to the fire. I submit to you; we must let them know that we will not stand by while career politicians impose their agenda to destroy the freedoms of our Country. If a politician says that they are for the 2nd Amendment BUT…. let me tell you they are NOT for the 2nd Amendment, and you must VOTE against THEM if you believe in the unrestricted right to self-defense!
When you are filling out your ballot; Remember these things:
who locked you down?
who hindered your ability to provide for your family during the governmental overreach and lockdown period?
who said you were non-essential?
who advocated to restrict your rights?
who empowered lawlessness in the summer of 2020 and in the streets of our large democratically controlled cities?
who does NOT hold criminals accountable but blames YOU for the failings of government?
Consider these things:
Who is for the unrestricted individual right to defend self and loved ones?
Who will uphold Article 1 Section 21 of the PA Constitution and the 2nd Amendment?
Who HAS upheld Article 1 Section 21 of the PA Constitution and the 2nd Amendment?
Who is for empowering the citizenry NOT the criminals?
An armed and educated citizenry is the true check and balance in our Constitutional Republic and the ultimate homeland security. VOTE ACCORDINGLY!
FOAC-ILLEA Once More Celebrates A Win in the Courts!
By Kim Stolfer, FOAC-ILLEA President
Last week, a milestone was reached in Pennsylvania politics with Commonwealth Court Judge Patty McCullough rendering a decision against the Pennsylvania State police and the PICs unit for not complying with Pennsylvania law.
Ever since ACT 17 (S.S.H.B.110) passed back in 1995, we have maintained that the system was illegal and operating outside the law, since this system came online in 1998.
Through our general counsel, Josh Prince, and with the able assistance of Dillon Harris and his Firearms Civil Rights Legal Defense firm, which was retained by Firearms Owners Against Crime – Legal, legislative, and Educational Action along with two firearms dealers, Jim Stoker and Landmark Firearms LLC.
This legal action was extremely expensive, for an all-volunteer group who has been around in Pennsylvania for decades, if you are able to or care to donate to FOAC-ILLEA that will be 'greatly' appreciated!
If you want to read further, go here for the decision: https://princelaw.files.wordpress.com/2022/09/decision-on-preliminary-injunction.pdf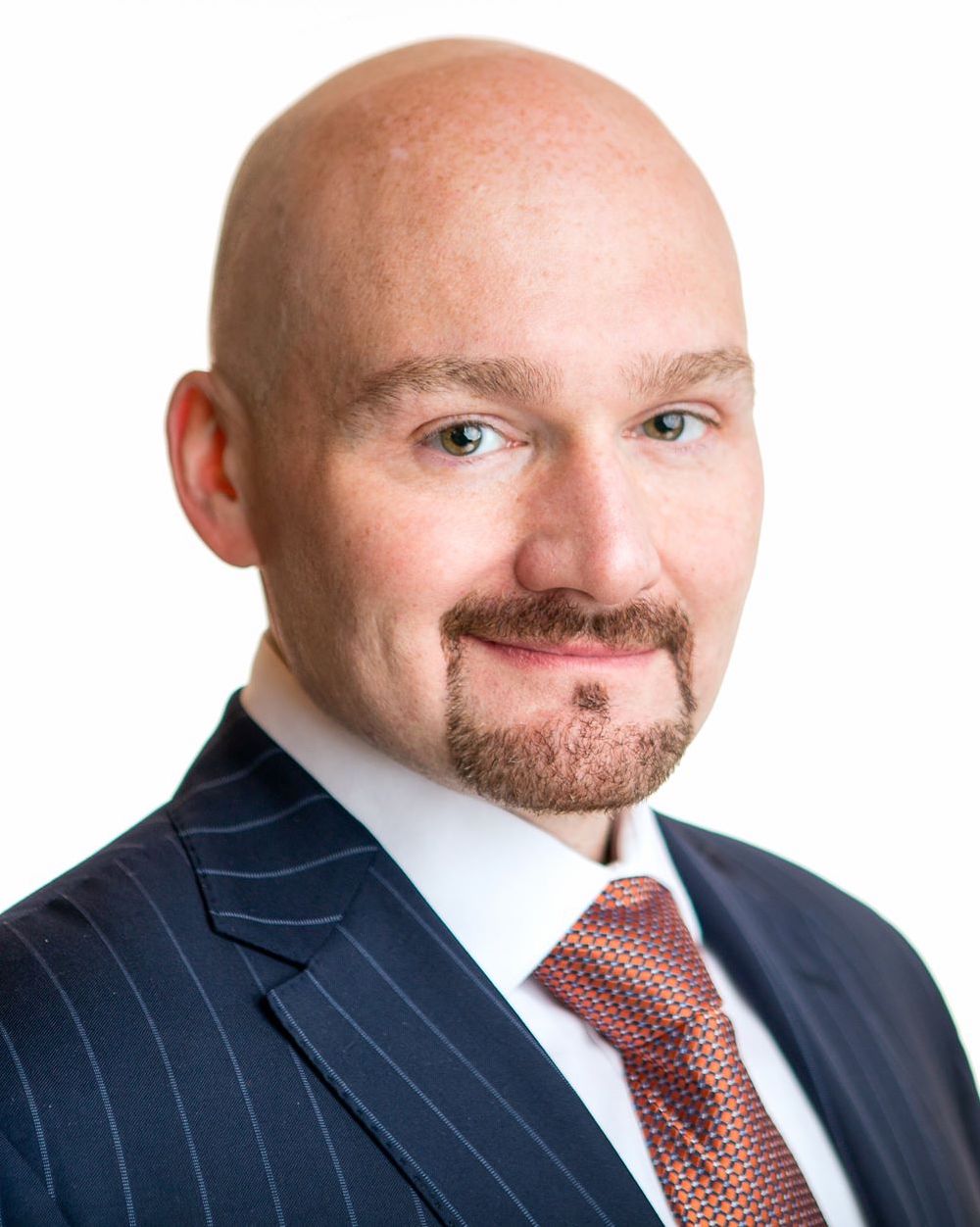 MONUMENTAL DECISION – Pennsylvania State Police Enjoined in Relation to Substantial Delays in Firearms Background Checks
Originally posted on Prince Law Blog, September 2, 2022 by Joshua Prince, Esq.
Today, Chief Counsel Joshua Prince, assisted by Attorney Dillon Harris, secured a monumental victory for the residents of Pennsylvania, when the Commonwealth Court Judge Patricia McCullough issued a preliminary injunction against the Pennsylvania State Police in Firearm Owners Against Crime – Institute for Legal, Legislative and Educational Action, et al. v. PSP Commissioner Evanchick, in relation to its non-compliance with 18 Pa.C.S. 6111.1, by failing to provide instantaneous or otherwise immediate responses to firearm background checks.
Specifically, in reviewing the testimony and evidentiary record, Judge McCullough found Lt. Keller confirmed that wait times routinely exceed 9-10 hours during peak times. In fact, the background check of Benjamin Brown, the owner of Petitioner Landmark Firearms, LLC, took over 20 hours, which is especially surprising because he is the holder of a federal firearms license which authorizes him to sell firearms and, as such, he is clearly not a person prohibited by law from obtaining a firearm. The testimony further revealed numerous instances where prospective purchasers of firearms canceled their purchases because of excessive wait times, thus causing Petitioners to lose the profits that they would have received from those sales. These delays, especially during gun shows (of which PSP has prior notice) have been going on now for years, and PSP does not appear to have a clear plan in place to abate these wait times.
As a result, Judge McCullough held
The Court therefore concludes that Petitioners have made a preliminary showing that PSP has a statutory duty under sections 6111.1(b) and 6111.1(c) of the Firearms Act to conduct immediate background checks and provide the results immediately or, at least, without delay. It further has a duty to employ a sufficient number of operators in the PICS Operations Section to ensure that all of its duties under section 6111.1 are administered expeditiously. PSP is in violation of section 6111.1 in that the results from a significant portion of PICS background checks are delayed significantly, which delays are causing financial harm to sellers. The delays are caused at least in part by PSP's failure to adequately staff its PICS Operations Section to meet increased demand.
Petitioners have established all of the prerequisites for the Court to grant preliminary relief. The Court accordingly will grant Petitioners' Application in part and enjoin PSP from further noncompliance with section 6111.1 of the Firearms Act. The Court will defer awarding additional relief until after the final disposition of the preliminary objections set for expedited argument on September 12, 2022.
If your constitutional rights have been infringed upon by the Commonwealth or agency thereof, contact FICG today to discuss YOUR options!

FOAC-ILLEA Fall Gun Bash
The gun bash ticket sales are under way! They can be purchased on the FOAC-ILLEA website. The gun bash is a tremendously great time of food and fellowship with some of the finest guns available in a bash! Tickets are selling fast, so be sure to pick yours up TODAY!
If you would be willing to volunteer and help with the Gun Bash, we can use extra man and woman power! We need more volunteers to help with set up on October 7th from 10am till 2pm. We also are looking for a volunteer to help with data entry. If you can donate your time, please contact FOAC-ILLEA Secretary/Treasurer Dale Brackin 412-913-1057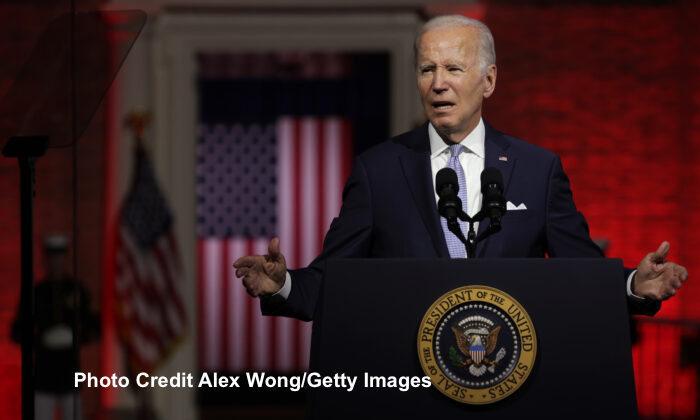 President Joe Biden delivers a primetime speech at Independence National Historical Park in Philadelphia, Pa., on Sept. 1, 2022.
Mainstream Media Reporters Target Biden for Giving Polarizing Speech Flanked by US Marines
Originally published by the Epoch Times, September 2, 2022 By Jack Phillips
President Joe Biden received backlash from corporate news reporters on Thursday night after he delivered a polarizing campaign-style speech flanked by two U.S. Marines.
During the speech, the president attacked tens of millions of people who voted for former President Donald Trump, describing them as extremists.
"Whatever you think of this speech the military is supposed to be apolitical," CNN host Brianna Keilar, whose husband serves in U.S. Army, wrote on Twitter. "Positioning Marines in uniform behind President Biden for a political speech flies in the face of that. It's wrong when Democrats do it. It's wrong when Republicans do it."
CNN Chief National Affairs Correspondent Jeff Zeleny wrote that "there's nothing unusual or wrong with a President delivering a political speech — it's inherent in the job description — but doing it against a backdrop of two Marines standing at attention and the Marine Band is a break with White House traditions."
"The Marines behind Biden was weird," ABC News producer Jeffrey Cook wrote. "If Trump did that, every Dem operative I follow would be freaking the [expletive] out."
CBS News Senior White House correspondent Ed O'Keefe noted the unusual optics.
"Like or loathe what he said tonight, it should be noted: The president spoke tonight on the grounds of a national park, flanked by US Marines, and took direct, specific aim at his predecessor and members of the Republican Party," he wrote. "Another thing we don't see everyday."
The White House on Thursday claimed that Biden's speech would be optimistic and not political. However, Biden called on voters to unite against "MAGA Republicans" and Trump, alleging they are a threat to democracy.
Some Republicans and other commentators also criticized Biden for standing directly in front of a dark blood-red backdrop during his speech, and cropped photos of the president were being shared.
GOP Ohio Senate candidate J.D. Vance wrote that he couldn't believe the red backdrop image with Biden was a "real photograph."
"It depicts the president of our nation, as he took to the airwaves and spoke about his fellow citizens as if they were sewer rats," he wrote on social media.
Some compared the image to communist or Nazi propaganda.
"Every time I think Biden and crew can't be dumber they outdo themselves," Barstool Sports chief executive Dave Portnoy wrote. "Seriously who gives a speech warning people about how dangerous Republicans are to Democracy while having a background that looks like the Soviet Union and Hitler had a baby?"
"This blood red setting and negative complaining about political opponents means one thing — Joe Biden is really nervous that Donald Trump is going to run again," wrote Richard Grenell, a former ambassador and the acting director of national intelligence in the Trump administration.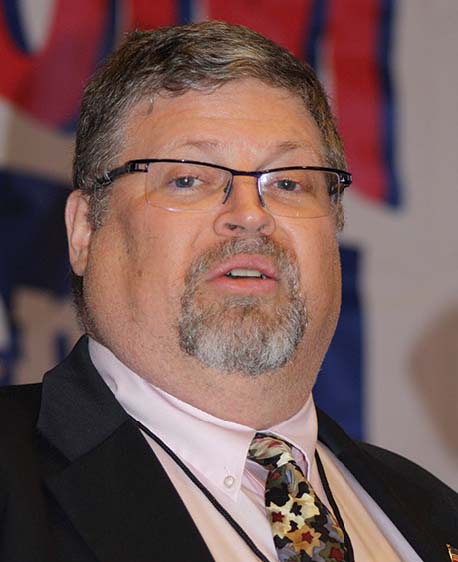 Dr. Edeen Tells Texas to Keep Its Children Well
Originally Posted September 1st, 2023, on DRGO, Doctors for Responsible Gun Ownership
[Ed: DRGO's Dr. John Edeen delivered this testimony on June 23 to the Texas legislature's Committee on Homeland Security and Public Safety strongly advocating effective school protection of our children, which is DRGO's long-held position.]
Thank you, Chairman White, for inviting me to give my testimony today. My name is John Edeen, MD. I am a pediatric orthopedic surgeon who has practiced in San Antonio for almost 25 years. I am a Navy veteran and a firearms instructor certified by the NRA, Massad Ayoob Group and Rangemaster. I am also the Membership Director for Doctors for Responsible Gun Ownership. (www.drgo.us).
The events of May 24, 2022, at Robb Elementary, hold a personal connection. Eva Mireles, one of the two teachers murdered that day, was the sister of my medical assistants in my orthopedic practice. In addition, one of the surviving children was surgically treated by one of the pediatric trauma surgeons that night. I was the on call orthopedic surgeon for the Children's Hospital that night.
Ed Monk (Last Resort Firearms Training), LTC, USA, Ret., former law enforcement and high school teacher has studied and analyzed all the active shooter events since the UT Clock Tower Shooting in 1966. He has simply broken down each of these shootings and planning should consider two factors: MATH + TIME. On average, one person is shot every 10 seconds. The numbers are worse in the first minute and do not account for a single person being shot multiple times:
TIME in minutes 1 2 3 4 5 6
Average casualties 6 12 18 24 30 36
Adjusted casualties 12 19 24 29 33 36
When someone walks into a room and starts shooting, when do you want it to stop? 10 minutes? 8 minutes? 5 minutes? 3 minutes? Or RIGHT NOW? You need a plan to make it happen.
IF there is an armed person in place, 1-9 victims. IF you wait for 911-police response 30+ victims.
J. Eric Dietz, PhD of Purdue University did a computer modeling study of active shooter response in schools. He looked at 4 scenarios:
1. No access control or any type of security within the school
2. Concealed carry individuals (5-10% of work force) present within school
3. Assigned School Resource Officer
4. Assigned Resource Officer and concealed carry individuals (5-10%)
He did 50 runs of each proposed scenario and found that decreased response time = decreased casualties:
No access control/security Highest casualties
Concealed Carry (CC) 5%: 6.8% decreased casualties, 5.4% decreased response times 10%: 10.6% decreased casualties, 16.8% decreased response times
Resource Officer Only 66.4% decreased casualties, 16.8% decreased response time
Resource Officer + CC 5 %: 69% decreased casualties, 59.7% decreased response time 10%: 70% decreased casualties, 62.7% decreased response time
The answer is having armed, trained and willing people in place at the time the active shooter chooses to attack. Gun free zones are like shooting fish in a barrel for the active shooter.
Ed Monk recommends these steps be taken to mitigate the effect of an active shooter in a school:
Completely change response plans from passive (call 911 and wait on someone to travel here and save us) to active (we will stop him).
Develop response plans focused on immediate counterattack- fighting and stopping the active shooter within the first 30 seconds, well before the first ambulance or law enforcement officer arrives.
Train, resource and practice the counterattack response.
Wargame the plan against real, evil, thinking, motivated attacker.
Base the plan on the attacker and start locations most likely for their school.
Base the plan on the End State= the number of victims.
Take responsibility for the victim count.
Teach staff and students their 3 options of response (Fight, Flee, Barricade).
Give staff & students permission to make their own decisions
Give staff & students permission and encouragement to fight
Encourage fighting immediately: teach staff & students how to fight
If legal, have enough armed staff members spaced out so that at least one is likely to hear or see the first shot of the attack
If not legal, change the law.
We do not have to reinvent the wheel. In Ohio, FASTER (Faculty, Administrator, Safety Training & Emergency Response) has 3000 school volunteers, in 300 school districts in 20 states over the past 10 years. They have also established a program in Colorado and are working on Arizona and Florida. The training begins with a one-day foundation class to assess baseline skill level and requires a concealed handgun license. Those who are accepted participate in a three-day Level 1 course which covers the history of active shooters, mindset and adversary tactics. There is a shooting instruction component and qualification test that exceeds that of the Ohio State Police Standard. They also get training on shooting while moving, use of barricades and room entry tactics. They do training in Tactical Combat Casualty Care (TCCC) and learn to stop hemorrhage and manage airways until EMS arrives and is allowed into the scene. On the last day they do realistic force on force scenarios. Level 2 training builds on Level 2. Level 3 training takes place in the schools with first responders (medics & police).
In a recent conversation with Jim Irvine, one of the founders of the FASTER program, he pointed out some added benefits of the collaboration between school administrators and law enforcement. A double homicide in a convenience store was solved when the juvenile murders were identified by the video when reviewed by school staff. Also, competition between school staff and law enforcement during joint training has improved pistol marksmanship on both sides. (www.fastersaveslives.org).
In conclusion, armed response time is the most important factor once an active shooter event in a school occurs. Some schools in Texas have already gotten the message and have armed volunteer teachers and staff. All need to. The days of planning to call 911 and wait for police to respond should have been over since Columbine in 1996. The lessons have not been learned. How many more Sandy Hooks, Marjorie Stoneman Douglases, Santa Fe High Schools and Robb Elementary Schools do we need before we protect our most valuable asset with armed personnel that have a chance to disrupt and deter the active shooter in the school?
FOAC-ILLEA presents Concealed Carry Seminars with Pro-Liberty Elected Officials, works with County Sheriffs at Satellite License To Carry Events, provides information tables at Gun Shows, and organizes for Pro-2A Rallies and events. To see the most up to date schedule of FOAC-ILLEA Events, CLICK HERE.
Social Media Update
In the last newsletter I shared some videos and the address of our YouTube channel. I inadvertently shared an incorrect address. Please click on the links below to visit or share our social media pages and channels. I have also re-shared the videos from last edition.
Video: FOAC-ILLEA Presents Rifle Sight in, Doing the Math, and Saving Money while Zeroing
Video: FOAC-ILLEA Presents The Importance of Cycling Carry Ammo
Quotes
"I don't endorse the party I endorse the man."
-James Brown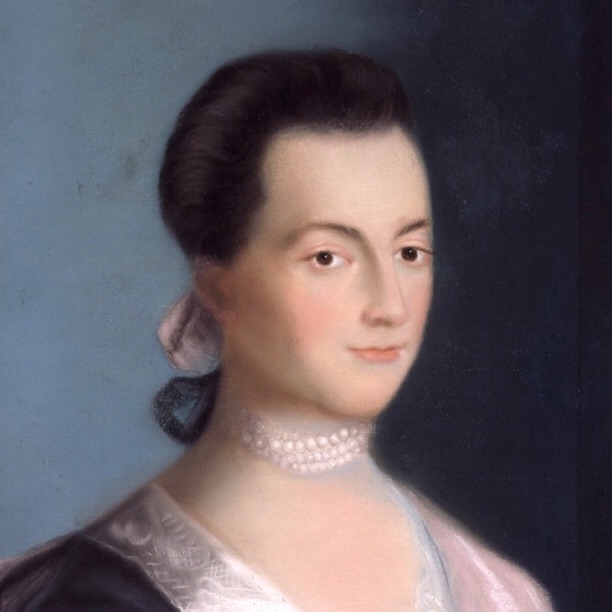 "You don't have to quote great men to show you are one."
-Abigail Adams
In Conclusion
"I have sworn upon the altar of God eternal hostility against every form of tyranny over the mind of man."
-Thomas Jefferson
Earlier this summer, I took my family to Washington D.C. to explore our Nation's Capitol. We visited various monuments, my uncle's grave at Arlington, we read the Constitution and squinted to read what is left of the signatures on the Declaration of Independence, we visited the office of the man that claims to represent me in the Congress… we looked at the White House from a distance and tried to count the armed officers in black that stood on the roof to protect the chief executive.
I was overcome with pride to read the words of Patriots and look at the graves and monuments that immortalize men and women who gave of their lives or gave their lives so that my family and I could enjoy Liberty and Freedom.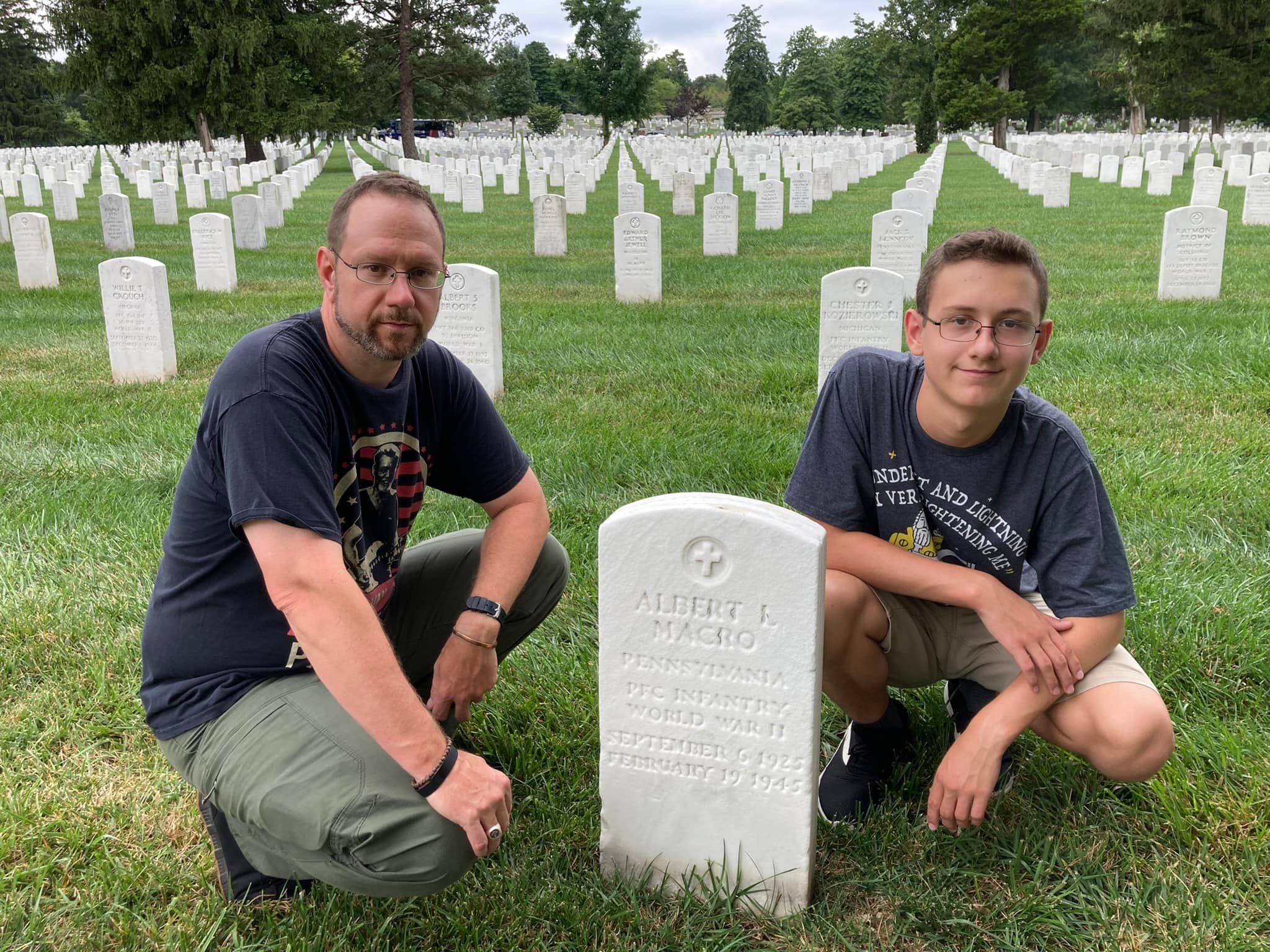 We sat and fellowshipped with random strangers and discussed the meaning of words and phrases that adorn these documents and monuments. I discussed the meaning of Liberty and sacrifice, service, and freedom with my son. As we pieced together the narrative thread of words from Jefferson, Monroe, Washington, and Lincoln, I realized that the American Revolution is a never-ending process.
Our Freedom, although guaranteed on paper, is only attainable by ensuring that those that we elect to represent us, play by the rules and honor the compact. Our history is rife with examples of elected officials abusing their office and the confidence of the people. We are in conflict every day. Luckily, with a few exceptions, our battles mostly take place in meetings, phone calls, voting booths, debates, emails, in conversations, and in the courts.
I wonder how the founding fathers would have viewed the actions of Joe Biden these last 47 years as he "served" the people. I wonder what they may have said or done after the chief executive demonized ½ of the population and demeaned the cause of Liberty and threatened Americans with fighter jets. I wonder what my Uncle who died in 1945 would say about a president that would actively campaign to disarm Americans while arming people of other countries, some of which are our enemies. I can only speculate. I wonder what advice Lincoln might give us now?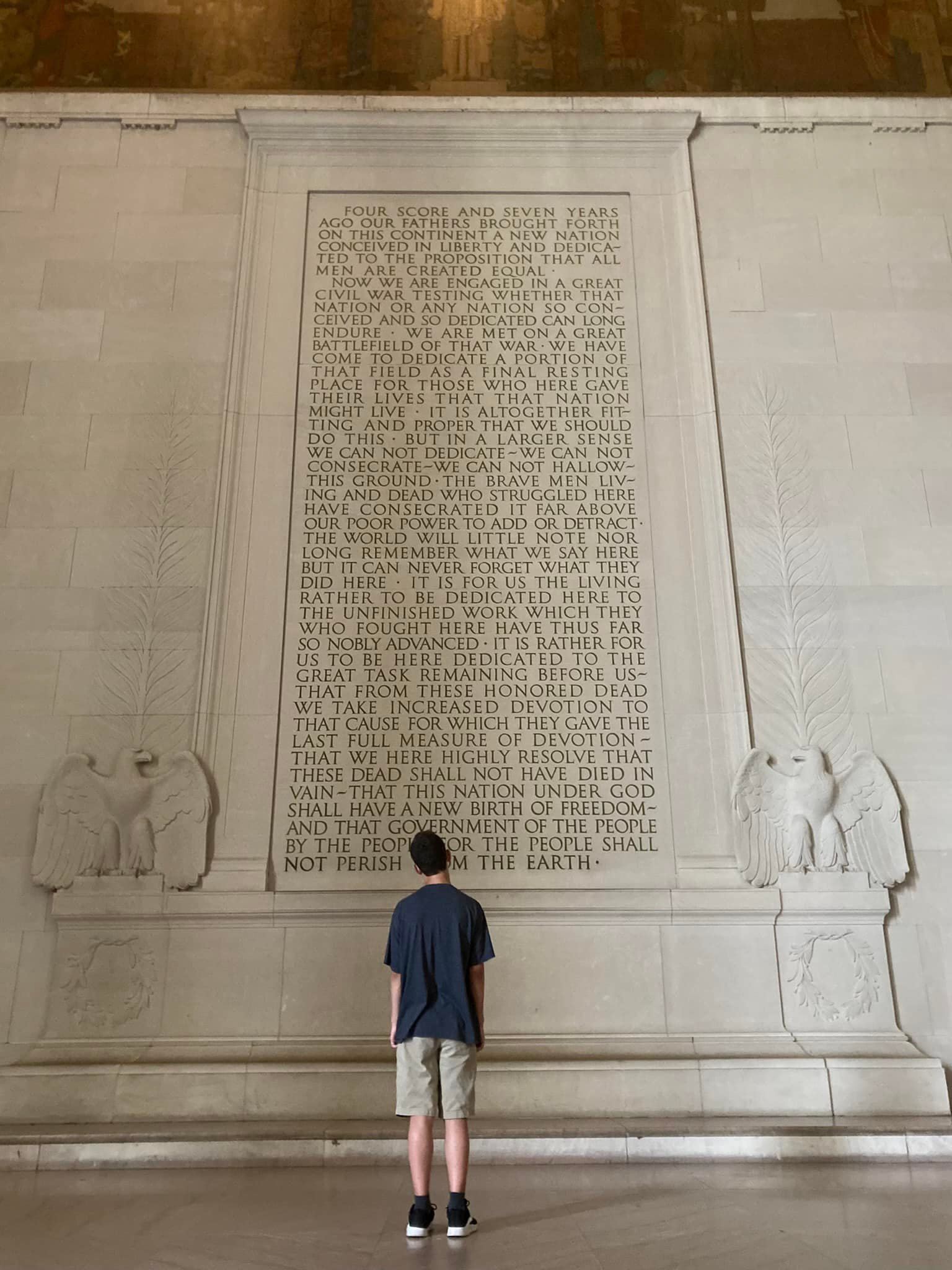 "…our fathers brought forth on this continent, a new nation, conceived in Liberty, and dedicated to the proposition that all men are created equal.
Now we are engaged in a great civil war, testing whether that nation, or any nation so conceived and so dedicated, can long endure...
It is for us…
to be dedicated here to the unfinished work which they who fought…
It is rather for us to be here dedicated to the great task remaining before us—that from these honored dead we take increased devotion to that cause for which they gave the last full measure of devotion—that we here highly resolve that these dead shall not have died in vain—that this nation, under God, shall have a new birth of freedom—and that government of the people, by the people, for the people, shall not perish from the earth."
-Abraham Lincoln
Our American Revolution is never ending. We must continue to fight to preserve the individual liberty and freedom that this country was founded upon. We must not abide the whims or calculated agenda of tyranny. We must continue to fight for the hearts and minds of our fellow Americans. We must fight to hold elected officials accountable. We must fight to ensure that ALL American Citizens have un-infringed access to ALL of our individual rights. We must rally and show strength at the polls in November. We must elect ONLY those that will also fight to uphold the Constitution. We must NEVER allow the elected class to disarm The People.
An Armed and Educated Citizenry is the true check and balance in our Constitutional Republic and the ultimate homeland security. "We The People" hold the power. Fight to hold that power so that we can hand it off to our children and our children's children.
As many of us are ironically celebrating Labor Day by taking the day off…. Ask yourself what you can do to help us fight the continuing American Revolution. Whether it be your time, treasure, or talent, let us know we can count on you! FOAC-ILLEA is an all-volunteer organization, and we are engaged in a daily battle to protect Article 1 Section 21 of the PA Constitution and the 2nd Amendment. Will you help us maintain, regain, and preserve freedom NOW so that we can hand off Liberty to the next generation?
I hope to see you all on the Capitol Stairs in Harrisburg on Monday, September 12th at the annual 2A Rally.
Stay Armed and Be Well Regulated!
Yours Most Respectfully,
Klint Macro
2nd VP FOAC-ILLEA